Craniofacial deformities can affect the jaw structures, cheekbones, orbits, nasal complex, TMJ`s, as well as the forehead. Such conditions that Dr. Wolford treats include hemifacial microsomia, Treacher Collins syndrome Crouzon`s syndrome, Apert`s syndrome, cleft lip and palate deformities, as well as many other syndromes.
Dr. Larry Wolford is an internationally renowned oral and maxillofacial surgeon. He is recognized as a leading expert in: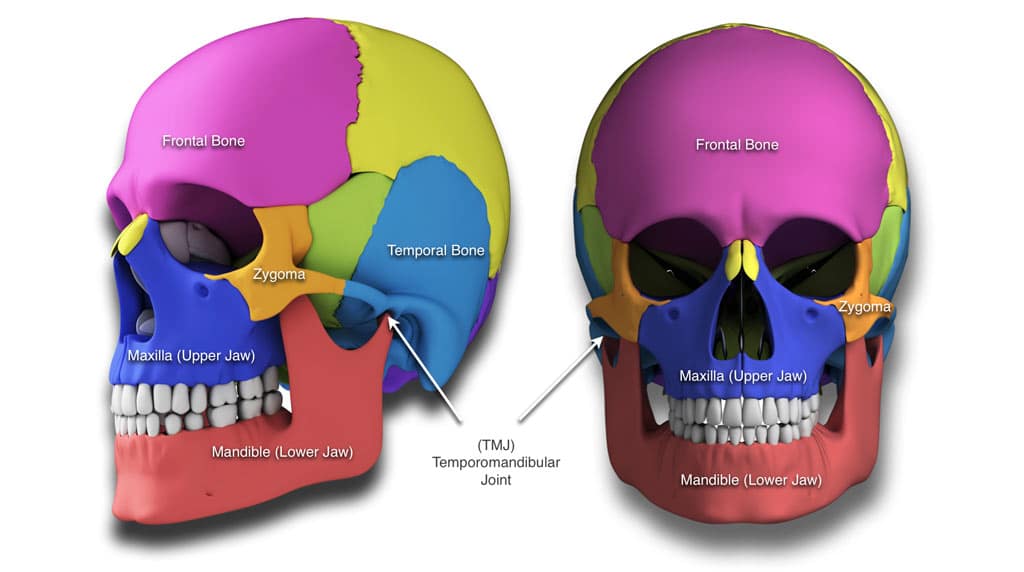 Orthognathic (jaw correction) surgery
TMJ surgery
Airway obstruction
Sleep apnea treatment
Cleft lip and palate treatment
Craniofacial reconstruction surgery
Nerve repair surgery
Dr. Wolford is responsible for the development of many state-of-the-art procedures currently used in these surgical fields. From diagnosis to treatment and follow-up, he offers unparalleled care for his patients, who are referred from all over the world. With over 35 years of surgical experience, Dr. Wolford's expertise is highly sought after to treat the most complex cases, as well as those that have resulted from previously unsuccessful surgeries.
Craniofacial Reconstruction
Craniofacial reconstruction involves surgical procedures that repair abnormalities of the face and skull usually resulting from birth defects, genetic disorders, traumatic injuries, or cancer. The goal of reconstruction is to restore the jaw, mouth, and sensory organs to functionality, as well as improve physical appearance. Recent advances, which allow for more successful surgeries, have been made in craniofacial reconstruction. These include:
Surgical plastics that can replace bone grafts
New techniques for keeping bones in place while healing
Better understanding of facial soft tissues
Improved surgical techniques
Computerized imaging programs that allow doctors to download and analyze data directly from computed tomography (CT) scans or x-rays.
Birth Defects and Genetic Abnormalities
Deformities in the growth of the head and facial bones are known as craniofacial anomalies (CFA). These irregularities are present at birth (congenital) and range from mild to severe, often requiring surgery. Congenital disorders that are characterized by CFA include:
Down syndrome: Caused by chromosomal abnormality. Common features are small, rounded ears, flattened nasal bridge, slanted eyes and large protruding tongue.
Crouzon and Apert syndromes: Both involve craniosynotosis that is premature fusing of the fibrous joints in the bones at the top of the skull. Characteristics include sunken-in facial appearance, misshapen head, dental malpositioning, and breathing problems.
Treacher Collins syndrome: Caused by a human chromosome five mutation, abnormalities include small jaw and airway (often causing breathing problems), malformed or missing ears, down slanting eyes, notched lower eyelids, and underdeveloped cheek bones.
Types of Craniofacial Anomalies
Cleft palate: The roof of the mouth (palate) is not completely closed. The opening may extend into the nasal cavity. May be seen in conjunction with cleft lip.
Cleft lip: The lip is not completely formed, ranging from mild (notching of the lip) to severe (large opening extending from the lip up through the nose).
Craniosynotosis: The soft spots (sutures) of an infant's skull close prematurely, which causes problems with skull and brain growth, often resulting in an asymmetrical appearance.
Vascular Malformation: A birthmark or growth made up of blood vessels, which can cause aesthetic, as well as functional problems. May also be known as vascular gigantism, lymphangiomas and arteriovenous malformations depending on the predominantly affected blood vessel.
Hemifacial microsomia: Underdeveloped tissues on one side of the face, which affect primarily the ear, mouth, and jaw. Other names include lateral facial dysplasia, Oculo-Auriculo-Vertebral (OAV) spectrum, facio-auriculo-vertebral syndrome, brachial arch syndrome, and Goldenhar syndrome.
Hemangioma: Abnormally growing blood vessel that presents as a faint red mark at birth or appears within the first few months after birth.
Deformational/Positional plagiocephaly (oblique head): Misshapen head due to repeated pressure in the same area. Often related to sleep position and usually does not require surgery.
When performing craniofacial reconstruction on children, the surgeon must make allowances for future growth of the skull and facial bones. Skillful, precise planning and special techniques involving computer imaging are utilized to estimate this growth.
Results from imaging studies (x-rays, CT scan, and MRI) are used to analyze abnormalities and form a comprehensive treatment plan, including long-term psychosocial concerns, surgical options, and post surgical expectations.  Most reconstruction procedures in children take 3-6 hours and are performed under general anesthesia.
Traumatic Injury
Traumatic injuries involving the head and face often include lacerations (tears), blunt trauma or burns. Common causes are:
Vehicular accidents
Chemicals
Heat
Electricity
Assaults
Falls
Animal bites
Because facial trauma patients often have other serious injuries, imaging studies to determine the need for reconstruction may be postponed until the patient is stabilized. Once the patient is out of danger, x-rays and CT scans are used to analyze fractures and condition of other structures in the head and face.
Facial Fracture Classifications
Named after René Le Fort, a French surgeon who made significant contributions to the craniofacial reconstruction field, traumatic injuries of the facial bones are classified as: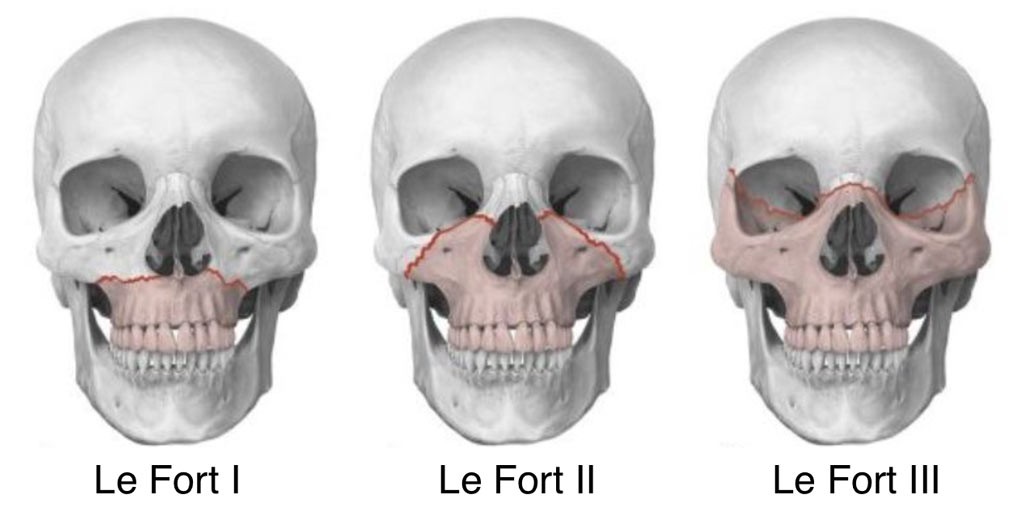 Le Fort I: Fracture runs across the maxilla (upper jaw).
Le Fort II: Pyramidal shaped fracture that breaks the cheekbone below the eye socket and runs across the bridge of the nose.
Le Fort III (craniofacial separation): Fracture breaks the nasal bridge and separates the frontal bone behind the forehead from the cheekbone.
The goal of craniofacial reconstruction following facial trauma is to repair as much as possible during the initial operation. Surgery may take four to fourteen hours and often includes:
Bone grafts: Facial bones are repaired using bone from other parts of the body.
Use of hydroxyapatite cement or polymer implants to fill in small areas of missing bone.
Rigid fixation: Surgical screws and titanium miniplates hold broken facial bones in place.  This speeds up recovery and generally replaces the need for wiring the jaws.
Stitches: Used to close lacerations.  In cases where large areas of skin are missing, a flap of skin from another area of the body will be transplanted to the face.
Cancers of the Head and Neck
While many facial skin cancers can be removed and closed with stitches, some head and neck cancers require the use of skin flaps or bone grafts, once the tumor is removed. Post cancer treatment reconstructive surgery may utilize microsurgery. The surgeon uses special instruments and a microscope to reconnect the nerve fibers and the facial blood vessels, allowing the preservation of facial muscles and restoration of the patient's appearance.
Post-Craniofacial Surgery
Most patients who undergo reconstructive surgery stay in an intensive care unit for a day or two for monitoring. Total hospital stay and aftercare will vary depending on the type of surgery or severity of injuries. Short-term aftercare can include:
Antibiotics
Pain medication
Surgical dressings
Special diets
Breathing exercises
Activity restrictions
Long-term aftercare may involve follow-up surgery and periodic consultations with an orthodontist or oral surgeon. This is especially true in the case of children, whose growth patterns need to be closely monitored. Cosmetic surgery is often used after cranial surgery to remove or minimize scarring, generally about six months after the initial operation.
Risks of Craniofacial Reconstruction
All surgeries done under general anesthesia include a risk of:
Bleeding
Reactions to anesthesia
Infection
Breathing problems
Bruising under the skin
Craniofacial reconstruction risks also include:
Damage to the head or facial nerves
Bone graft failure
Visible Scarring
Need for further surgery
Factors that can affect craniofacial reconstruction results:
Weakened immune system
Skin damage from radiation
Poor nutrition
Smoking
HIV infection
Poor blood circulation in the area affected
Connective tissue disease (i.e. lupus, scleroderma)
Time elapsed between injury and surgery
Dr. Wolford has been a pioneer in the treatment of many of these syndromes and has developed procedures to provide high quality outcomes for these patients. At your consultation, Dr. Wolford will develop a diagnosis and comprehensive treatment plan to correct your problems. Please contact Dr. Larry Wolford's office using our online contact form or call 214-828-9115 if you would like to schedule an appointment.